A Guide to Understanding Your Energy Bill
If you are interested in learning how to spend less on energy, the best place to start is understanding the information listed on your monthly bill. Taking the time to read and understand your energy bill can tell you how much energy your household is consuming and ways you can become more energy efficient. Your energy bill will also list charges, fees and taxes, which are important to check each month.
Let's dive deeper into what will be listed on your monthly electricity bill and how you can understand it. Depending on your REP, your bill may look slightly different from this sample bill, but the information should be similar.
Account Information: This section contains your personal information, including your name, account number and service address. If you need to contact your provider's customer care line or sign up for a new plan, you will need to have this information nearby.
Current Bill Statement: This will list the charges for the most recent billing period and the due date for your payment. This section also notes the charges for your last bill statement.
Bill Overview: Here you will find a brief summary of your bill and how it was calculated. This section includes a breakdown of taxes and utility charges that are included in your bill. You can find a more detailed explanation on page 2.
Consumption History: This section provides a look at how your energy usage fluctuated over a period of time – usually between six months and a year. This can help consumers pinpoint a month when they typically consume more energy or predict when their bills may be higher due to seasonality.
Monthly Usage: In the monthly usage section, you can see exactly how much energy you consumed for the current month in kilowatt hours (kWh). Depending on your REP, this section may also include information such as your usage from last month or from the same month last year.
Payment Slip: If you plan to pay by mail, you will use this payment slip. Many REPs offer online payment or autopay options, which are normally noted in this section.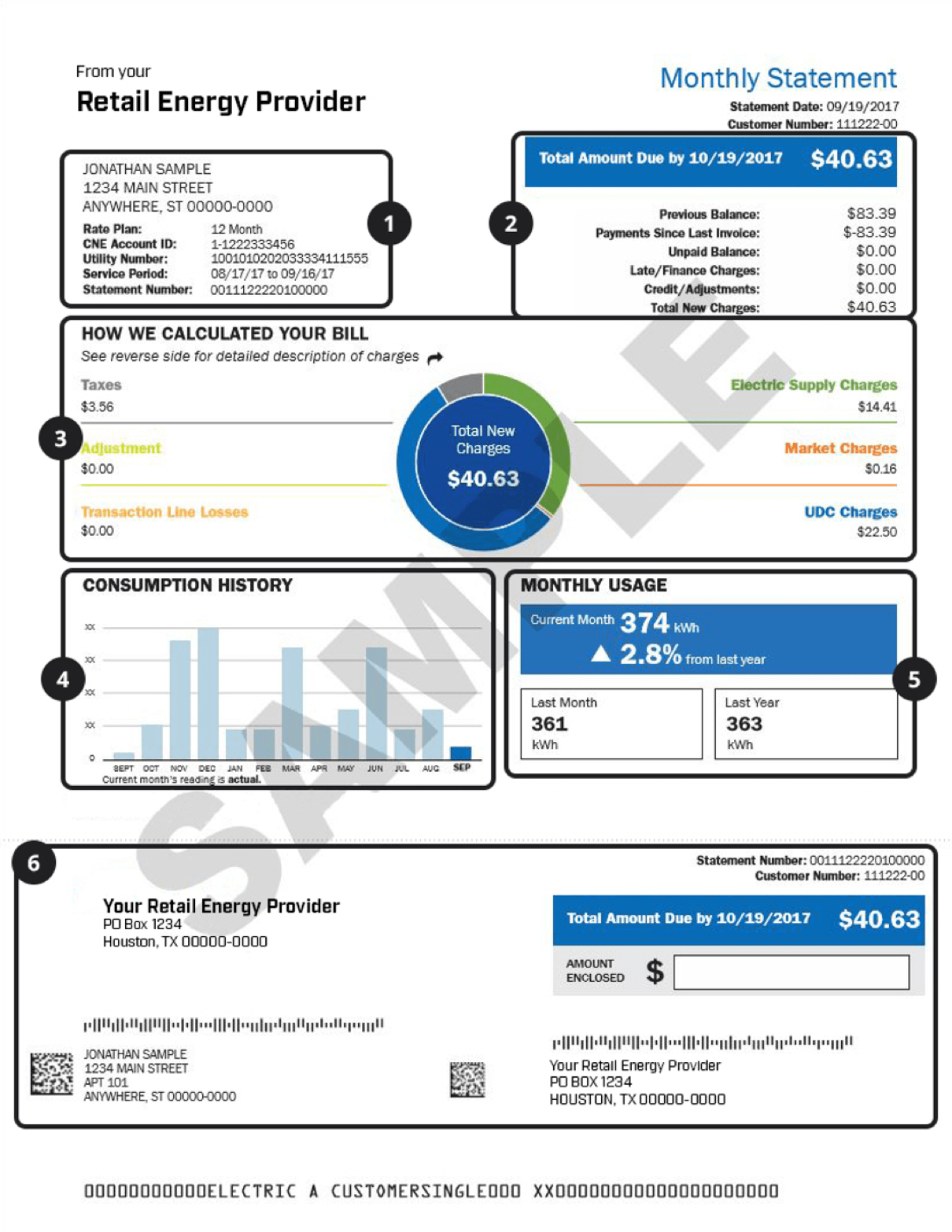 7. Bill Breakdown: This is a detailed explanation of how your bill was calculated. This section will include your meter number, your electricity rate, and any charges that influence how much you pay. Following are some common items you will see in this section.
Electric Supply Charge: This will make up most of your bill. This charge notes the price of electricity consumed (in kWh), which is calculated using your energy plan's rate.
Market Charges: These charges depend on changes in the electricity market. They help to keep the grid reliable and balance supply and demand.
UDC Charge: This stands for "Utility Distribution Company," which is the company that delivers electricity to your home. Every household in the utility company's service area will be charged the same amount, regardless of their REP. Sometimes these are listed as TDU or TDSP charges.
Taxes: Here you will see state and city taxes. You may also see taxes from MGRT or PUCA.
MGRT is the "Miscellaneous Gross Receipts Tax," which is a tax from your utility company.
PUCA, or the "Public Utility Commission Assessment," is a charge from the Public Utility Commission of Texas (PUCT), which manages the Texas electric market.
Every household in your utility's service area will pay the same amount for MGRT and PUCA. These taxes are not impacted by your REP.
8. Ways to Pay: Your REP may offer different methods of bill payment. To learn more about your options, please contact your REP directly.